Kabbalat Shabbat service and dinner with scholar-in-residence
Friday, June 1, 2018 • 18 Sivan 5778
6:30 PM - 9:00 PM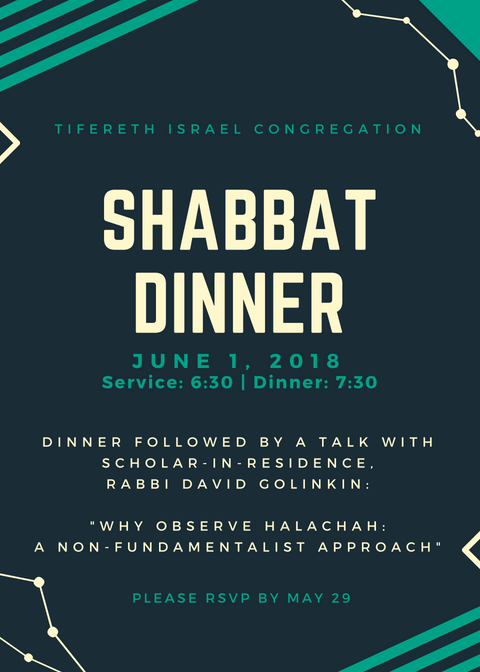 Click here to view the complete schedule for the scholar-in-residence Shabbaton.
Please contact the TI office with any dietary questions or any problems with registration: 202-882-1605 or email grant@tifereth-israel.org.

TI Members: Sign in to ShulCloud at the top of the page
Member Sign Up Form
(Note: this form is only visible to logged in members)
The attached form requires you to be logged in. Please login using the form below:
Non-Members Sign Up Form
This form closed on 2018-05-29 12:30:00.
Share Print Save To My Calendar
Fri, January 18 2019
12 Shevat 5779
Jan. 26: Havdallah potluck at Sara & Josh Goldberg's home
RSVP here
Feb. 9: Kadima/USY Laser Tag
Feb. 10: Brunch in honor of Marcia Goldberg
__________________________
Contribute to a simcha Kiddush
Fri, January 18 2019 12 Shevat 5779